S.F. ballot measure: Affordable developers get first shot at public land
Submitted by catalina on June 18, 2015 - 10:13pm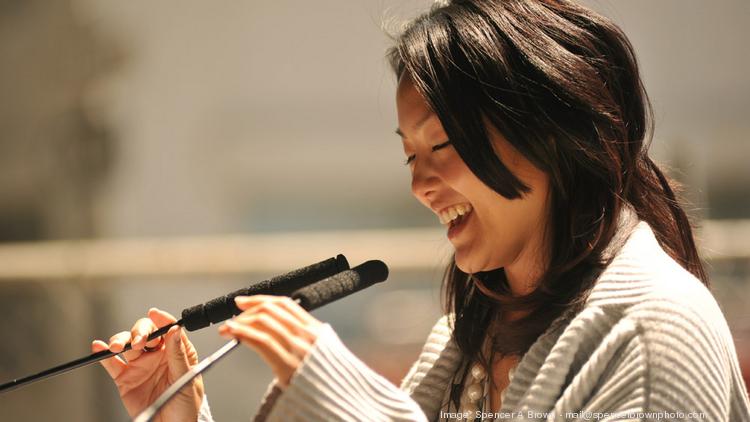 Spencer A Brown
Supervisor Jane Kim.
Voters will likely get a say this November if affordable housing developers should get the first shot at building on extra city-owned land, rounding out a ballot that will be filled with real estate issues.
A ballot measure endorsed by four supervisors from the progressive wing would "prioritize surplus and underutilized public land for 100 percent affordable housing," or at least try to get public sites in line with last year's Proposition K goal to build projects with 33 percent affordable housing.
The measure was filed with the Department of Elections on Tuesday, the final day to secure a ballot spot. It hasn't hit the department's website yet, but was filed in its City Hall office and announced by Supervisor Jane Kim.
As it stands, the city typically walks a tricky line when trying to figuring out what should get built on public land. Two clear cases illustrate the challenge.
First, City College of San Francisco wants a developer to build mostly market-rate housing (200 to 300 units) on a large property it owns at 33 Gough St. That development would be a boon to the cash-strapped community college, but wouldn't provide as much revenue if the land is slated for a high number of affordable units. (CCSF is part of a state, not city, agency though.)
Second, the city recently received bids to develop its 30 Van Ness site, which could hold an office or residential tower in an area of the city about to pop with highrises — giving the city a jolt of revenue.
Affordable housing advocates have said both cases would present lost opportunities for more low-income housing to be built in San Francisco, particularly as "public land in our little 7 (mile) by 7 (mile) city is arguably the most precious asset we have for addressing affordable housing needs," said Peter Cohen, co-director of the Council of Community Housing Organizations.
"We need more sites that are a land bank to build housing in various neighborhoods over time so we can be stable in the highs and lows of the market," he said. "Otherwise you're in a crisis moment, behind the eight ball, and trying to find a site here or there. It's a highly competitive game in the market."
The mayor rolled out a "public sites program" as part of his affordable housing initiative last year, but would usually give agencies more flexibility to determine surplus sites' usages.
The mayor's office may resist progressives' push for this ballot measure because it often takes revenue from market-rate units to help pay for affordable housing on public land, and building affordable housing on public sites requires big subsidies.
As I wrote in December when the Planning Commission meeting took on this issue: "The city says it will prioritize low- and middle-income housing, but cautioned that some sites may be better suited for other uses. ... Designating more sites for affordable housing instead of market-rate housing could handcuff the possible revenue that those sites could produce for city services like transportation."
Developers will soon vie to build hundreds – if not thousands – of units of housing on the Balboa Reservoir site, which is owned by the Public Utilities Commission.
This issue has also resonated in Oakland, where an affordable housing battle has taken shape over a market-rate condo building set to rise next to Lake Merritt on public land. Mayor Libby Schaaf said the city also needs strong policies to guide public land development.
The Nov. 3 ballot will be packed with land-use issues if proponents collect more than 9,000 signatures by July 16:
Need more help? Meet one-on-one with a housing counselor to discuss your rental or purchasing goals and get application assistance. Interpretation services will be provided. Email info@homeownershipsf.org to schedule an appointment.
Necesita más ayuda? Hable con un consejero de vivienda para discutir sus metas de alquiler o compra y obtenga asistencia con su solicitud. Se proporcionarán servicios de interpretación. Escribanos al correo electrónico info@homeownershipsf.org para programar una cita.
Kailangan pa ng tulong? Kumonsulta sa housing counselor upang mapagusapan ang iyong mga hangarin sa pag-upa o sa pagbili at matulungan sa aplikasyon. Mayroong tutulong sa pagsasalin ng Ingles sa Tagalog. Mag-email sa info@homeownershipsf.org upang mag-schedule ng appointment.
找出如何符合可負擔城市租屋或購屋計劃的資格和申請方法!認識租客基本知識、申請方法、業主—租客關係及其他更多資訊!需要更多協助嗎?您可與房屋顧問面對面商討您的租屋或購屋目標並尋求申請協助。將會提供口譯服務。請發電郵至 info@homeownershipsf.org.以便安排預約。
Нужна помощь? Лично встретьтесь с консультантом по недвижимости, чтобы обсудить цели в сфере аренды и получить помощь при подаче заявки. Предоставляются услуги переводчика. Напишите письмо по адресу info@homeownershipsf.org, чтобы назначить встречу.
Pe manaomia atili le fesoasoani? Feiloa'i na o oulua ma le faufautua mo fale ina ia talanoa i ou sini mo le mautotgi ma maua le fesoasoani mo faatumuina o pepa. O le a saunia tautua mo faamatalaupu. Imeli i le info@homeownershipsf.org e faatulaga ai se tuugatala mo le feiloaiga.