SF proposes turning Moscone garage into affordable housing, hotel tower
Submitted by Leisa Boswell on February 5, 2018 - 3:25pm
Source: San Francisco Chronicle
By J.K. Dineen | February 3, 2018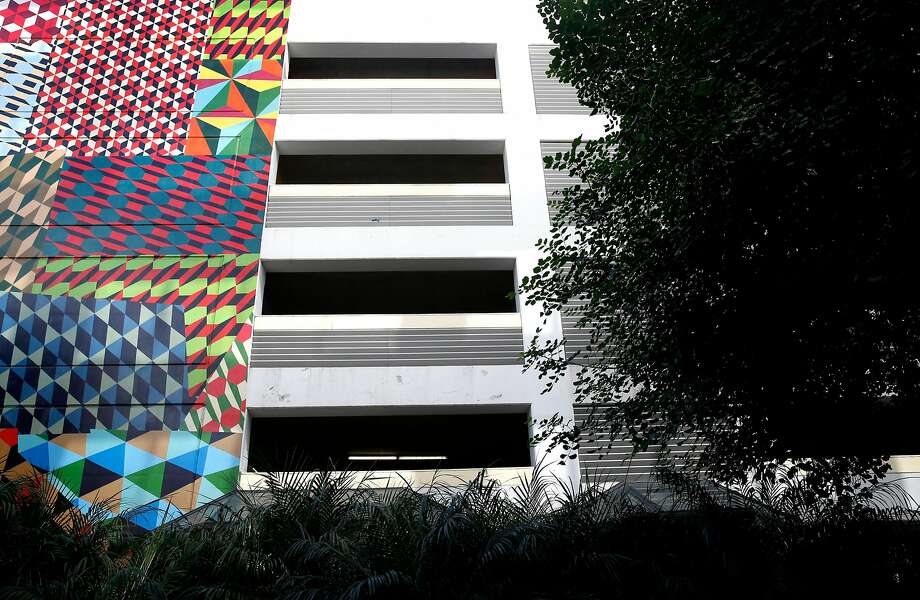 The Moscone Convention Center parking garage would be redeveloped into a 320-foot tower with at least 650 hotel rooms and at least 100 affordable housing units under a plan being put forward by the city.
Directors of the San Francisco Municipal Transportation Agency, which owns the property, will vote Tuesday on issuing a request for proposals to build a multiuse complex at 255 Third St., currently a 732-space garage. The site, just under an acre, is bordered by Clementina Street to the south and Kaplan Lane to the east.
The garage, which is 53 percent occupied during peak parking hours, generates $2.3 million annually for the city. Under the plan, the transportation authority will retain ownership and negotiate a 65-year ground lease with the selected development team.
The project is part of a broader city push to create affordable housing on public land. Over the past few years, the San Francisco Unified School District and City College of San Francisco have made underutilized parcels available for housing development.
"We are trying to be creative in the use of the city's limited land, to see what property can be put to a higher and better use," said Daniel Adams, deputy director of the Mayor's Office of Housing and Community Development. "The public benefits of taking a single-use site like a parking lot and converting it to multiple uses, including housing, are multifaceted."
While developers frequently combine high-end condos and luxury hotels — both the St. Regis and Four Seasons in San Francisco are examples of this — the Third Street project would mark the first time a hotel is combined with below-market-rate residential units.
It would also fill what San Francisco Travel says is a pressing need: a mega hotel next to the convention center.
The effort comes as the city's hotels are booming. The citywide hotel occupancy rate was 83.8 percent as of July 2017, well above the national average of 66 percent. In particular, the city lacks big hotels: Currently 70 percent of the city's hotels have 200 rooms or fewer, requiring conventions to often book rooms across 20 hotels. In the case of the largest Moscone events, as many as 100 hotels are needed.
"We think this is a welcome development for San Francisco," said Cassandra Costello, vice president for public policy for San Francisco Travel. "It will not only support the convention market but also create hotel jobs and affordable housing, something that will benefit workers in the hospitality industry."
While there would not be dedicated parking for the hotel or the housing, would-be developers will be required to include two alternatives: one that includes a garage with between 200 and 300 parking spaces and one that ditches the garage altogether.
In May, Todco, a nonprofit housing owner in the South of Market, wrote a letter "expressing concern about the development of the Moscone Center Garage Site, including project design, minimum level of housing affordability, community process, and contribution toward community facilities."
Todco President John Elberling said that he is satisfied with the project's progress since then. "Carving sites for affordable housing out of big new projects is a strategy we should be increasingly using," he said. "We desperately need affordable housing sites in SoMa, everywhere and anywhere we can find them."
Todd Rufo, director of the city's economic development office, said the project represents an "innovative way to use public land to achieve two critical needs for SoMa and the city."
The hotel, "will help San Francisco remain a top tourist destination and support the growing demand for convention business at Moscone Center, while also providing high-quality permanent jobs for our workforce," he said.
The hotel will employ about 400 full-time workers, according to the city.
The proposed project comes as the city is working on rezoning a swath of South of Market a block west of the Moscone garage site. That effort, which is expected to be completed this year, has prompted property owners to submit applications to build more than a dozen major developments, including nine hotels. All the hotels in the pipeline are significantly smaller than the one planned for the Moscone garage.
Peter Cohen, co-director of the Council Of Community Housing Organizations, said the Moscone garage project, while not part of the Central SoMa rezoning, should "not be seen as an isolated outlier." And he said his group will advocate for more housing units.
"A hundred units is a pretty modest number in the city's core," he said. "That is going to be a gem of a site, so why not max it out in terms of units if we can make it work."
Need more help? Meet one-on-one with a housing counselor to discuss your rental or purchasing goals and get application assistance. Interpretation services will be provided. Email info@homeownershipsf.org to schedule an appointment.
Necesita más ayuda? Hable con un consejero de vivienda para discutir sus metas de alquiler o compra y obtenga asistencia con su solicitud. Se proporcionarán servicios de interpretación. Escribanos al correo electrónico info@homeownershipsf.org para programar una cita.
Kailangan pa ng tulong? Kumonsulta sa housing counselor upang mapagusapan ang iyong mga hangarin sa pag-upa o sa pagbili at matulungan sa aplikasyon. Mayroong tutulong sa pagsasalin ng Ingles sa Tagalog. Mag-email sa info@homeownershipsf.org upang mag-schedule ng appointment.
找出如何符合可負擔城市租屋或購屋計劃的資格和申請方法!認識租客基本知識、申請方法、業主—租客關係及其他更多資訊!需要更多協助嗎?您可與房屋顧問面對面商討您的租屋或購屋目標並尋求申請協助。將會提供口譯服務。請發電郵至 info@homeownershipsf.org.以便安排預約。
Нужна помощь? Лично встретьтесь с консультантом по недвижимости, чтобы обсудить цели в сфере аренды и получить помощь при подаче заявки. Предоставляются услуги переводчика. Напишите письмо по адресу info@homeownershipsf.org, чтобы назначить встречу.
Pe manaomia atili le fesoasoani? Feiloa'i na o oulua ma le faufautua mo fale ina ia talanoa i ou sini mo le mautotgi ma maua le fesoasoani mo faatumuina o pepa. O le a saunia tautua mo faamatalaupu. Imeli i le info@homeownershipsf.org e faatulaga ai se tuugatala mo le feiloaiga.